Day and evening around bats with the SHNA
Saturday August 31st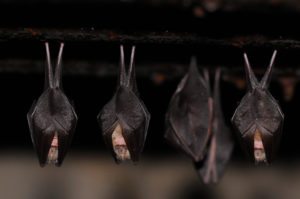 At the Pyramid of the Wolf, on the occasion of bat night, we offer various activities on this occasion.
During the day, we organize participatory workshops with children.
On this occasion, the inauguration of the Gilats Ecodomain will also be held in "Refuge for bats". This will be an opportunity to show the public how to improve the situation for bats.
In the evening, there will be a screening of Tanguy Stoecklé's beautiful film entitled "A Life of the Great Rhinolopher" (52 min).
Interactive presentation with Ludovic Jouve (Autun Natural History Society) under the dome of the Pyramid to talk:
– inventory techniques,
– the species present in the region and
– actions carried out in the commune of Toucy in favour of bats (commune that signed the operation Refuge for bats, development of the church for bats)
Finally, we will end up going outdoors around the pyramid to try to observe or rather hear the bats' ultrasounds with the help of ultrasound detectors.
An NAHS bat exhibition will be held at La Pyramide du Loup from August 1 to the end of August.